It's hard to believe our summer season is over and autumn has been in swing for a month here. The weather has been uncommonly warm, which gives us plenty of reasons to stick to our island and our favorite beaches. But despite this southern hemisphere Indian summer, we've been wanting to get out into our state's countryside, or serra, as it's called in Portuguese.
One place on our list was Urubiçi (pronounced oo-roo-BE-see) which is home to a smattering of waterfalls, a national park and a giant rock with a hole in it (which looks cooler than it sounds). About a three hour drive from Floripa, this was an easy weekend trip. We stayed in a home-turned-hostel in town run by a sweet young couple and their cat named Gandalf. Although we enjoyed meeting this couple and their hospitality was great, the town of Urubiçi itself wasn't much to see. Thankfully we planned to spend most of our time out in the mountains and trails. There's tons of farmland, woodland and mountains surrounding the town, and our first drive was up to Morro da Igreja, or Church Hill, the highest point in southern Brazil (at just under 6,000 feet, it's not that high, but we'll take it!) From this vantage point you can see Pedra Furada, that giant rock with a hole in it that I mentioned earlier. It was a winding and sometimes unpaved road to get to the top, but it was so worth the view. The valley was covered in a gorgeous blanket of clouds that stretched as far as I could see.
After this stunning view we headed back down the mountain to see our first cachoeira (kah-sho-AIY-rah), or waterfall, of the trip called the Bride's Veil (Véu de Noiva). This waterfall, like many of them nearby, was located on private property, so we paid a small fee to use the trail to access it. Often these private properties also have cabins or a cafe, which make them pleasant stops. This particular waterfall was just a short walk down a path filled with hydrangeas and moss-covered tress.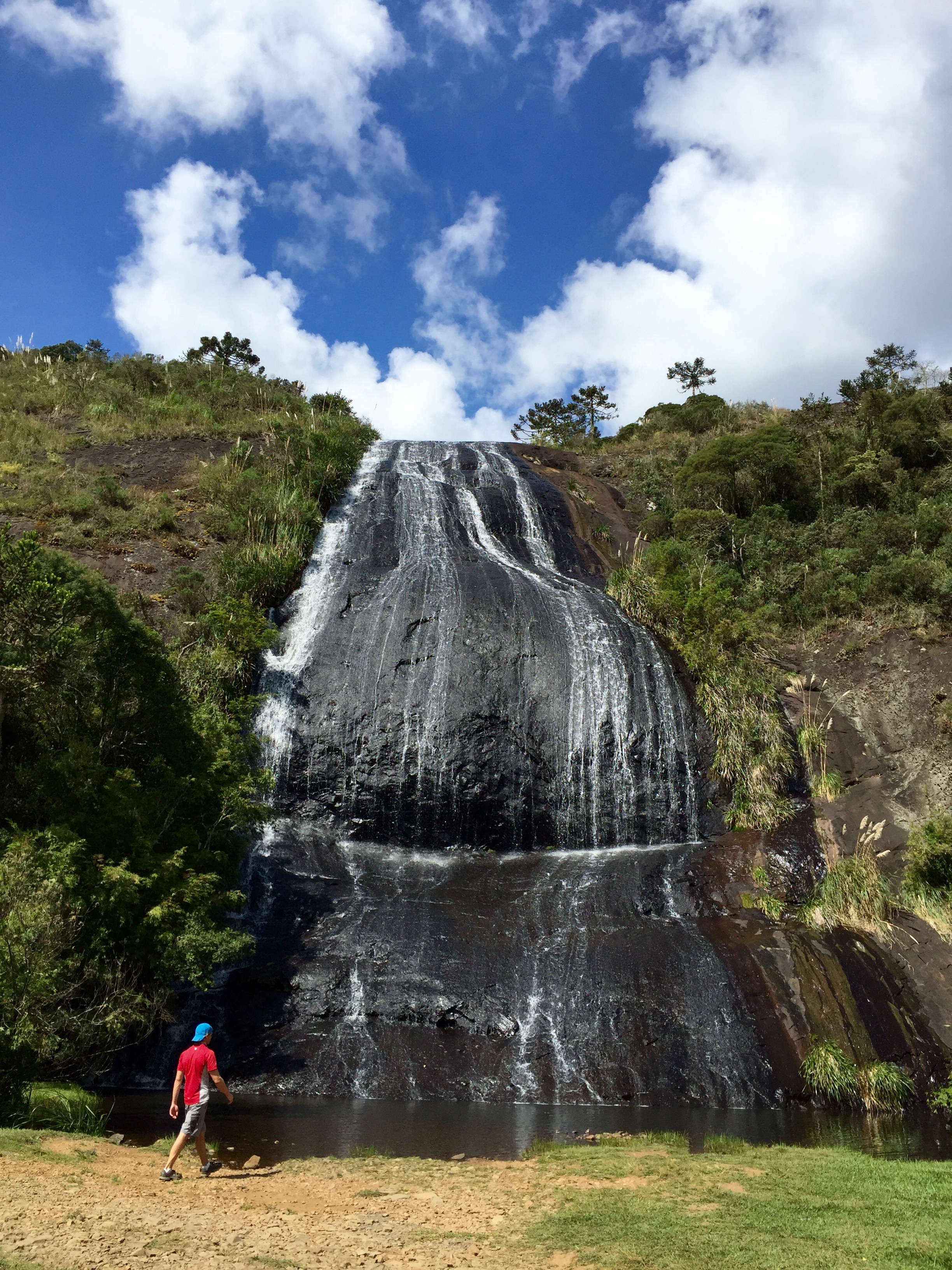 Our next stop was probably my favorite of the trip. We went for lunch at Il Rifugio, a tiny mountaintop restaurant with incredible views and even better food. The Refuge, as it's called in English, is a self-described "slow food" restaurant. I kind of thought all Brazilian restaurants were "slow food" (or at least slow service) since they move at a rather relaxed pace.
But Il Rifugio was clearly labeled slow food for a good reason. We took refuge in the charming environment, gorgeous views, and of course their delicious food and wine. My favorite part of the meal was the typical Brazilian cheese bread, or pão de queijo, which I've read is a bit similar to French gougères. This treat can be divine when it's hot and fresh, and Il Rifugio had the best I've tasted since arriving in Brazil. I was also pleasantly surprised with the local wine by Villagio Bassetti, a high altitude winery nearby. You may have noticed that both the restaurant and the winery have Italian names, and much to my delight many areas of southern Brazil were settled by Italian immigrants. In the late 1800s, the Brazilian government promised cheap, farm-ready land for these immigrants in attempt to provide a new labor force after the slave trade to Brazil ended in 1850. "Farm-ready" was an exaggeration, though, as the land was still thick, uncleared forest. To the credit of the Italian immigrants, they developed some amazing wineries and agriculture in the area, and there are plenty of places in the southern states here with Italian names and traditions, and there are even some who learned Italian as their first language.
Our next stop was to another private farm with a dramatic waterfall that dropped 100 meters into the valley. The only thing better than seeing a waterfall is seeing it with a bird's eye view, which is exactly what we did. The farm (which was really more like an adventure outfitter) had a zip line that ran just over the canyon and the waterfall, so I put on a helmet and harness and walked off the tree-house-like platform into the air. It was a slow, easy glide through the edge of the forest, over the canyon and above that powerful cascade of water. My only regret was not doing it twice (or three times!).
The next morning we headed to another private property with...more waterfalls! This was a theme for the trip, I suppose. This farm, called Sitio Sete Quedas (Seven Breaks Site), has a trail that leads through seven waterfalls. I would say "trail" is an exaggeration on their part, since much of the time you're actually walking through the riverbed and rock hopping. We only made it to three of the falls before we had to get on the road home, but I'd say five waterfalls in 48 hours is a pretty good prelude to one of the "new" seven wonders of nature: Iguazu Falls, which I'll write about next!