I know a man who can identify a bird by the shape of its wings. In an instant of flight he analyzes its shape and size and coloring, then quickly flips through a thick field guide to show me a drawing of the bird I was too slow to catch on camera.
It's easy to miss sighting a bird or a monkey or a caiman or a cobra in the jungle, despite their near omnipresence. They move seamlessly in and out of the shadows of this vast habitat. But catching a glimpse of wildlife, to see this intense array of biodiversity is what brings me and thousands of other voyagers to the Amazon every year.
The intensity of the natural diversity is enough to make you feel like a stranger on this earth. And why wouldn't it? The Amazon, or as Amazonas, as it is in Portuguese, is a wild, storied land. It would be foolish of me to try and capture its grandeur here, but to prepare for this trip I did read two accounts of men risking life and limb and sanity to experience this place. The first was The Unconquered: In Search of the Amazon's Last Uncontacted Tribes by Scott Wallace, a writer for National Geographic. He opts for a Amazonian voyage at what is perhaps the worst possible time—in the middle of a divorce, a new relationship, a stressful transition for his kids and his lack of physical preparedness. But then again, is there ever a good time to venture into one of the world's harshest environments? I think not. His book details a trip with Sydney Possuelo, the once-leader of Brazil's government agency to protect the indigenous people. Possuelo's lifework was to implement a no-contact strategy for the agency, meaning they wouldn't attempt to intentionally modernize any uncontacted indigenous community. Instead of trying to bring the tribes to a modernized way of life, he worked tirelessly to survey the outskirts of their communities and advocate for their independence. Basically, the idea was to leave them to continue living the way they have been for hundreds of years. Wallace's book follows one of Posseulo's trips to search for and survey what was believed to be one of the last uncontacted tribes in the Amazon, the Arrow People, or, the Flecheiros, who were given this name by outsiders for their habit of launching poison-tipped arrows at any intruder. This adventure weaves together the challenges of modern Brazil's interaction with native populations and the classic jungle trek (with a few surprises, of course). The Unconquered is a fantastic look into the madness of the jungle and Brazil's culture, and it is one of the best pieces of journalism I've read to date.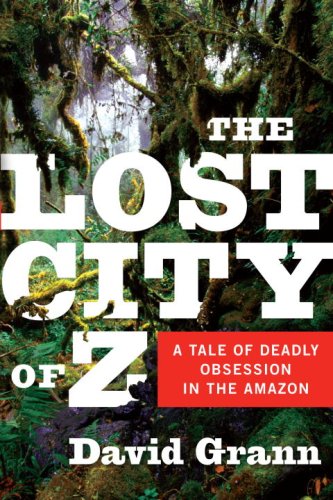 The other book I read was The Lost City of Z: A Tale of Deadly Obsession in the Amazon, by David Grann, which retraces the the tale of Royal Geographic Explorer Percy H. Fawcett and his 1926 disappearance in the Amazon. Fawcett, a well known and experienced explorer went on a mission with his son Jack, and his son's friend Riley to search for the fabled El Dorado, or the Lost City of Z, which Fawcett believed was a highly sophisticated society deep in the jungle. He wasn't alone in this theory, and after Fawcett and his party vanished, others went in to search for him and Z. Not all lived to tell their tales. Fawcett's other exploration feats are as legendary as his disappearance, and this book was a great introduction in the old world days of exploration and how alluring the Amazon can be, despite its dangers. It was also a fascinating look at a talented and perhaps troubled man possessed by passion. You should read it before the movie comes out in October. Trust me, it's worth it to experience this adventure first in words, then in film.
My own voyage did not remotely resemble any of the treks I read about but it was no less thrilling. The density and diversity of the Amazon Basin is simply astonishing. I saw a fraction of a fraction of a fraction of the jungle, but it was enough to feel like it was a world within itself. The starting point of our journey was in Tefé, a small city in the state of Amazonas that is about a hour long flight west of Manaus. From there we took a small boat for 40 minutes or so to the Uakari Floating Lodge in the Mamirauá Reserve. There are many outfitters that advertise Amazon jungle experiences, particularly outside of Manaus, but most of the ones I researched felt more like a gimmick instead of an actual look at nature. The Uaucari Lodge, however, not only employs its own biologists, but it is a model of sustainability. I was impressed by their organization and service, and most especially by the quality of their guides. Speaking Portuguese made our experience more enjoyable, of course, but the guides were all helpful, enthusiastic and knowledgeable. During one canoe trip I foolishly asked our guide, who grew up nearby, if he had to study the field guide much in order to work this job. "Of course not," he said. "This is my backyard." The brightly colored parrots were as familiar to him as pigeon was to me growing up.
Every day in the reserve he proved it. He pointed out two sloths which otherwise would have gone unnoticed to my untrained eye. He also showed me that a coiled lump in a tree just above our heads was in fact a snake sleeping. It was in that moment I finally saw for myself a little of what I had read about the Amazon and its hidden dangers and its undeniably deadly qualities.
But deadly can be beautiful.